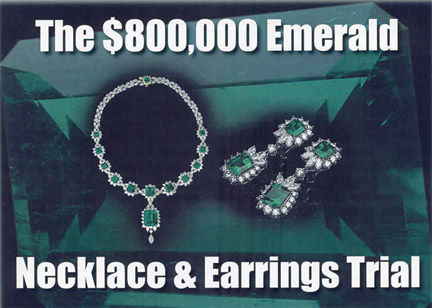 The $800,000 Emerald Necklace & Earrings Trial
In what could have been the next "Fred Ward" emerald trial, the jeweler in this case prevailed. It was not that he was without error. However, had he lost this trial, it would have wrongly cost him his business, and could have had a severe long-term affect on the emerald industry. In the end we believe justice prevailed but not without some cost, and hard lessons have been learned.
By Richard B. Drucker, GG & Stuart M. Robertson, GG
Background
Robinson Brown, Jr., then chairman of the Brown-Forman Co.(distillers and distributors of several brand name liquors), asked his longtime jeweler James Jackson (Aesthetics in Jewelry) to find for him an exquisite necklace and earrings similar to that which Richar d Burton once gave to Elizabeth Taylor. He was willing to spend a substantial amount of money, well over a million dollars if necessary. Jackson states that Brown had explained that he wanted to dedicate the emerald jewelry to his late wife's memory by naming it after her and eventually donate it to a local museum. Although his heirs dispute Jackson's assertion that their father intended to donate it, there are three interesting facts that appear to support Jackson's statement: 1) Brown's wife was deceased at the time he commissioned Jackson to produce the jewelry. 2) Brown had updated his will shortly before his death but did not bequeath the jewelry to any of his three daughters, two daughters-in-law, sons, or anyone else. 3) Brown had reportedly commissioned a presentation box with engraved plaque for the piece.
As featured in JCK magazine:
Emerald Crack Up
A new development in the filed of emerald enhancement could mean trouble for retail jewelers.
By Gary Roskin, G.G., FGA, Senior Editor
Emerald-enhancement laboratories in Colombia and Brazil have devised a way to increase rough-to-polished weight retention of emeralds by as much as 50 percent - but the practice may ultimately compromise the stones.
As featured in JCK magazine:

ExCel Enhanced Emeralds ExCel at Christie's
A pair of emerald earrings with six round brilliant-cut emeralds (t.w. 93.96cts.) recently sold at Christie's Auction for $410,700. Significantly, they were accompanied by an American Gemological Laboratory (AGL) report stating that the Colombian emeralds had been enhanced by the organic polymer ExCel.

Arthur Groom, a retail jeweler and emerald wholesaler whose company co-developed the ExCel enhancement, believes the sale might signify the turning point at which the industry finally accepts ExCel as a legitimate treatment.

Fernando Garzon of the Clarity Enhancement Laboratory (CEL) in New York, Groom's partner and the developer of the ExCel enhancement process, says, "The biggest hurdle is the word "polymer." It's usually the kiss of death."

He believes ExCel's lifetime guarantee was the reason the earrings made a positive showing at the auction.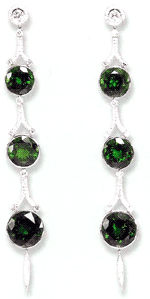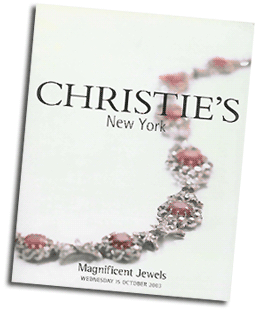 A MAGNIFICENT PAIR OF EMERALD AND DIAMOND EAR PENDANTS
445

Each circular-cut diamond surmount, suspending a graduated series of circular-cut emeralds, spaced by circular and square-cut diamond links, terminating in a calibre-cut diamond drop, mounted in platinum.

With report 0303085 dated 2 April 2003 from the Gueblin Gemmological Laboratory stating that the six faceted gemstones (tested insofar as mounting permits) are natural emeralds. Gemological testing revealed characteristics consistent with those of emeralds originating from Colombia and show indications of minor clarity enhancement.

With reports CS35187, CS35188 and CS35189 dated 19 November 2001 from the American Gemological Laboratories stating that based on available gemological information, it is the opinion of the Laboratory that the origin of the emeralds weighing approximately 8.10, 9.32, 9.74, 9.81, 12.85 and 14.14 carats would be classified as Colombia. Clarity Enhancement: Faint and Faint-Moderate (Organic: polymer Type: ExCel Process)
The total weight of the emeralds is approximately 63.90 carats

Estimate: $400,000-500,000